If you're tired and looking to block marketing calls and those other spam calls for loans and insurance, you're not alone. These pesky calls can interrupt your day and cause unnecessary stress. Luckily, there are several ways to stop spam marketing or loan or insurance calls. In this comprehensive guide, we will discuss the steps you can take to reclaim your peace of mind.
Activate DND (Do Not Disturb) Service to Block Marketing Calls
The first and most effective step to stop unwanted or robo marketing calls is to activate the DND (Do Not Disturb) service on your phone. This service is provided by all major telecom operators in India, including Airtel, Vodafone Idea, and Jio. To activate DND, simply follow these steps:
SMS: Send an SMS with the text "START 0" to 1909.
Call: Dial 1909 and follow the instructions provided.
Note: Activating DND will block all telemarketing calls and SMS, but you may still receive essential messages and calls from banks or telecom operators.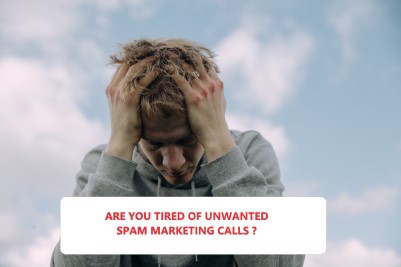 Register Your Number on NDNC (National Do Not Call) Registry
Another way to stop unsolicited marketing calls is by registering your number on the National Do Not Call (NDNC) Registry. Once your number is on this list, telemarketers are legally required to stop contacting you. To register your number, follow these simple steps:
Visit the NDNC Registry website: www.ndncregistry.gov.in
Click on "Register" and provide your mobile number.
Complete the registration process by following the on-screen instructions.
It may take up to 45 days for your registration to take effect. After this period, you should notice a significant reduction in unwanted marketing calls.
Report Unwanted Calls to TRAI and Block Marketing Calls
If you're still receiving marketing calls after activating DND and registering on the NDNC Registry, you can report these violations to the Telecom Regulatory Authority of India (TRAI). You can file a complaint either through the TRAI website or by using their mobile app.
Website: Visit www.trai.gov.in, click on "Complaints & Appeals" and follow the instructions to file a complaint.
Mobile App: Download the "DND 2.0" app from the Google Play Store or the Apple App Store, register your mobile number, and file a complaint.
Use Call Blocking Apps
There are several call-blocking apps available for Android and iOS devices that can help you identify and block unwanted calls. Some popular options include:
Truecaller
Call Control
Hiya
Call Blocker
These apps not only block spam calls, but they also allow you to create custom filters and maintain a blacklist of numbers.
File a Complaint with Your Telecom Operator
If none of the above methods work, you can file a complaint with your telecom operator. They are obligated to take appropriate action against telemarketers who violate DND rules. Provide them with the following information:
Your mobile number
Date and time of the unwanted call
Name and number of the telemarketer
By following all these steps you can avoid these nuisance of unsolicited spam calls and make your life little bit happier. Let us know and share with others what else worked for you.
Use Spam Filters where Possible to Stop Spam
Many email services and messaging apps have spam filters that can help filter out unwanted messages. You can also install third-party spam filters on your devices to block unwanted messages.
Don't Share Your Contact Information
Be careful about sharing your contact information online or with third-party service providers. This can prevent your contact information from being sold to telemarketers or spammers.
Be Cautious
If you receive unsolicited loan or insurance offers, be cautious and do your research before responding. Don't share any personal or financial information unless you are certain of the legitimacy of the offer.